Discover more from Pub(lishing) Crawl
All things reading, writing, books, and occasionally booze. Reading you under the table since 2012. This site now exists as an archive of all the posts and content from the original website.
Cover Reveal for INKED by Eric Smith + Words from Cover Designer
[box type="note"]Mondays are awesome when you get to reveal an awesome book cover for an awesome author/person. I'm a huge fan of Eric Smith and his book, The Geek's Guide to Dating, and it's an honor to be revealing the cover for his debut novel, Inked, due out from Bloomsbury Spark on January 20th, 2015. Eric's cover designer, Jenny Zemanek, is here today to tell us about the design process before a Q&A with the author himself:[/box] JENNY: It's such a pleasure to be here today to talk a little bit about the design of INKED's cover, it was a truly collaborative process with the Bloomsbury Spark team and I'm excited to see it revealed to the world today! The design for Inked started first and foremost with the type. Often times the concept for a cover takes a great deal of time and research, hunting for the right visual or visuals that perfectly communicate the details of the story in an arresting way, but with INKED we had a solid visual from the beginning in the tattoos. I knew I wanted the title to be a focal point, so once I found a typeface that had the feel I was going for, I built the rest of the floral scrollwork tattoo around it. We wanted Inked to be immediately identified as a fantasy novel, so in addition to the tattoo elements, we hoped to incorporate a landscape that would read as fantastical in nature. What you see below is our first comp.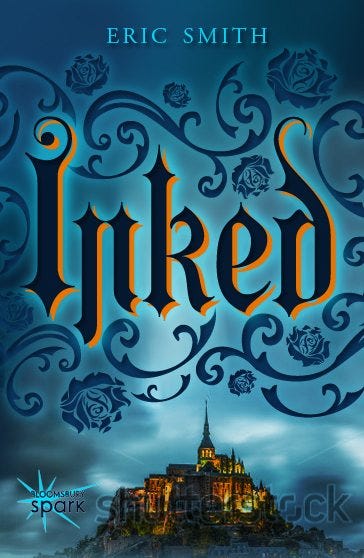 While it was agreed that the title treatment worked really well, there was a feeling of disconnect between the very graphic style of the tattoo and the photographic quality of the castle. In the second round of proofs, I tried to reconcile those two elements by eliminating the photograph altogether and moving forward with a fully illustrated cover. Meredith at Bloomsbury also asked if I could create a sense of movement within the image, incorporating bolts of lightning as they play a prominent role in the story.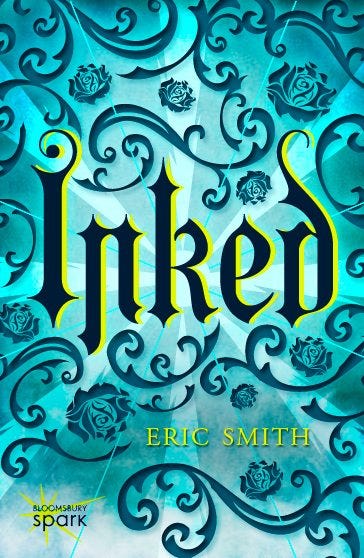 The movement created by the lightning was a hit, but without the castle and the human element implied by its presence, the cover wasn't quite communicating everything we wanted it to. We decided to return to the visual of a castle as seen in the initial comp, but wanted to make it more of a stylized silhouette to better complement the title treatment. The lightning was incorporated as well, and with a few additional revisions to the blue glow around the title (another important element of the story) and the overall color, we reached our final cover.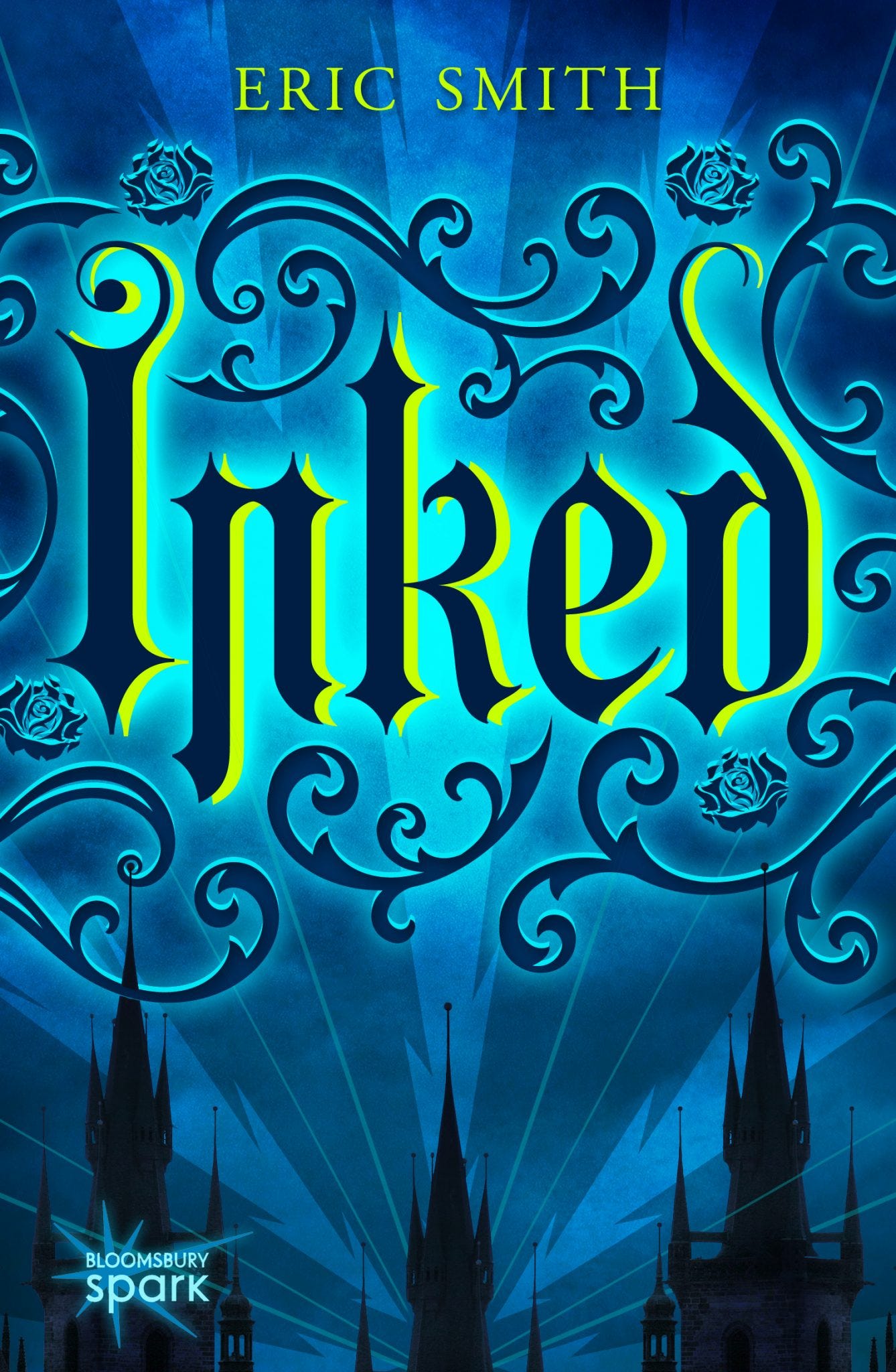 [hr] Adam: Congrats on the awesome cover, Eric! Did you have an idea on what you wanted for a book cover as you wrote INKED? Did Bloomsbury Spark match your vision or did they surprise and wow you with their own creation? Eric: Thanks! And yes, I did. Early on in the process, Meredith Rich over at Bloomsbury Spark sent me a little survey asking me about my favorite YA book covers. What did I like about them, what did I hope to see in my cover, things like that. I had a lot of thoughts and opinions, and sent over a bunch of favorites. I probably had too many ideas, as I'm sure every excited author does. I ramble a lot. I wanted something that focused on a tattooed part of the body, like an arm or a hand, or maybe just two of the main characters in a fantasy-esque setting. CODE NAME VERITY, SOMETHING STRANGE AND DEADLY, and UNDER THE NEVER SKY were some examples I emailed over. And then I got something very different, and I absolutely love it! So they definitely went the route of wow and surprise. Very surprise. Such wow. Etc.
Adam: Describe that moment you saw your final cover...with one GIF. Eric: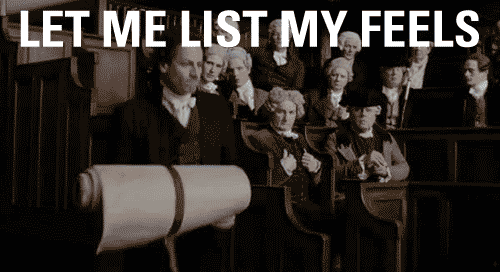 [Note: The feels listed on that document are good feels.]
Adam: What can you tell us about Inked? Eric: It's a fantasy novel that takes place in a world where, when teenagers come of age, the government gives them mandated magical tattoos that tell the world what they are best at. The tattoos shift and move, and basically broadcast who you are, what your future will be. The story focuses on Caenum, a teenager about to be Inked, and his desire to lead his own life. And how that desire leads to a lot of trouble for him and those closest too him; a best friend who is already Inked, a Scribe (the name for tattoo artists) with a surprise gifts, and his family. Adam: This sounds so awesome and has me itching for another tattoo. Speaking of getting inked, have you gotten your book cover inked on your face yet? If not, what are you waiting for? Eric: Hah! Not yet. Waiting until after my wedding. Perhaps I'll get it someplace else though. We'll see. Thanks for revealing your cover on Pub Crawl, Eric! And thanks to Jenny at Bloomsbury for giving our readers some scope into her process. You can add Inked on your "To Read" shelf on Goodreads and pre-order it on Barnes & Noble and/or Amazon. Let us know what you think about the cover and its process in the comments below!