Discover more from Pub(lishing) Crawl
All things reading, writing, books, and occasionally booze. Reading you under the table since 2012. This site now exists as an archive of all the posts and content from the original website.
Contributing to an Anthology
Hi all, Julie here! I'm thrilled to be joined today by authors Mindy McGinnis, Stephanie Scott, and Shannon Parker. Today is a big day for all four of us, as well as PubCrawl contributor Eric Smith. Welcome Home, an Anthology on Love and Adoption, is out in the world! Eric conceived of this anthology and edited it, and the rest of us (including Eric himself,) have stories inside. Shannon is here to share what this post is all about. Take it away, Shannon!
Aren't anthologies fantastic? Where else can you dive into a story by a beloved author and—only a few pages later—discover a new favorite author? Today we're giving a shout out to a newly-released YA anthology on adoption, Welcome Home, with stories from twenty-nine authors in genres ranging from sci-fi to contemporary to historical fiction. The book is an incomparable resource for teens and families looking to find the adoption experience on the page. Welcome Home is powerful and moving and we were able to check in with a few contributing authors to find out what inspired them to contribute to a collection that "will touch readers' hearts (and cause a few to shed some tears!)"~ School Library Journal.
From Mindy McGinnis: Everything I write is fiction, but so much of it is rooted in truth and experience that sometimes the lines become blurred. Many of the names I used in my debut, Not a Drop to Drink, are family names. Lizzie's String from A Madness So Discreet is taken from my personal family history, and The Female of the Species could be set in any small town... but I think people who know where I'm from will recognize a thing or two.
The same is true for my short in Welcome Home. My maternal grandmother was adopted, and my sister and I grew up asking for "orphanage stories." While my grandmother was lucky enough to find a family, most of her siblings were not. They did, however, manage to stay in touch after being separated. I dabble in genealogy, and while searching the 1940 Census I found my grandmother, age seven, listed with the other orphans as "inmates."
It was a sad sight, and one that burrowed into my mind, eventually becoming the short story, "Census Man."
Mindy McGinnis is an Edgar Award-winning author who writes across multiple genres including mystery, fantasy, contemporary and historical. 
From Stephanie Scott: What I love about short story collections is how different each writer approaches a common theme. For my story in Welcome Home, I took inspiration from real life. Like my character Hannah, I spent time at a foster care and adoption agency, though I was a recent college graduate rather than a high school volunteer. Like her, I discovered the name of a childhood friend in the agency's files. I'd lost track of my friend during the transition from middle school to high school. Right there in front of me, the file highlighted when she and her sister entered foster care, explaining why I stopped seeing her at school. Beyond that, I was left with questions and threads to a story I'd likely never unravel.
The questions, the sense of loss and worry, those are all fodder for stories. The trick is taking real life inspiration and not getting too hung up on what actually happened, which can limit the plot and character progression a story requires. Focus on a memorable moment as a launching point and craft layered characters and a story beyond your own experience. Inspiration can come from anywhere, even our most curious, unexpected circumstances.
Stephanie Scott is the greater-Chicago dwelling author of Alterations, a 2017 finalist for the Romance Writers of America's Best First Book RITA® award.
From Shannon Parker: I met my oldest son when he was five. He was small and wide-eyed when he asked, "Do you know any nice people because I'm looking for my forever family?" I was lucky; I did know kind people, and kindness. In the same way that small boy had known unspeakable cruelty and terrifying neglect. My son is sixteen now and shakes his head at those early years in our family, saying things like, "I was sure you and Dad weren't going to keep me." But we did. Through the tantrums and the rage. Through the nightmares and the threats. The tests, the fear. We all risked our hearts.
When I was asked to write a story on adoption for Welcome Home, I couldn't imagine I had anything new to say on the subject. Then my son reminded me of "the day I knew you and Dad would keep me." He was six and had shattered every pane of glass in his bedroom window, testing for my reaction, cowering in the corner in anticipation. I'd reached for his hand then, told him my love was like a train on a loop of track and could never stop.
In remembering this moment, my son gave me a way into my writing. I used this slice of truth in my fictional story—a mother promising love to a scared child, and again to the child as a teen. I hope the fictional "Tunneling Through" highlights the very real, often quiet and constant ways we show up for those we love, braving the terrible truth of life with them at our sides. Risking our hearts. Fighting for trust. Finding home.
Shannon M. Parker is the author of The Girl Who Fell (2016) and The Rattled Bones (2017), both with Simon & Schuster/Simon Pulse. Find her at www.shannonmparker.com.

From Julie Eshbaugh: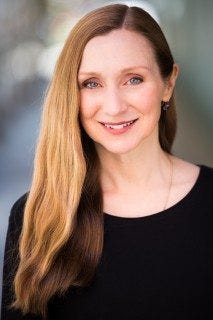 I wrote my story, "Webbed," specifically after learning of this anthology from Eric Smith's Twitter feed. I'm not going to lie--I was intimidated. I was excited to submit a story for the collection, and as an adoptee, the topic is one that matters quite a bit to me. But I was nervous. Eric encouraged me to write a story from a place of emotional truth, and if I could share one lesson with writers aspiring to contribute a story to an anthology, that would be it. Write from your heart, because you don't get many pages to get your point across. So I examined my heart, poking at the places that relate to my adoption, and one of the places that still feels a bit sore concerns learning the identity of my birth mother, and the ways that knowing a truth both gives you something and takes something away. Unknown, my birth mother was a limitless mystery, and like Miranda in my story, I enjoyed that mystery, even as I came to decide I was ready to trade myth for reality. I wrote a part of myself into the character of Miranda, and I hope other adoptees discovering new truths will see themselves in her, too.
Julie Eshbaugh's latest novel, Obsidian and Stars (HarperTeen 2017) is the sequel to her debut, Ivory and Bone (HarperTeen 2016.) She lives outside Philadelphia, where she is hard at work on her next book.
Do you read and/or write short stories? What do you think of anthologies built around a theme, such as this one about adoption? Please feel free to join the conversation in the comments!