Discover more from Pub(lishing) Crawl
All things reading, writing, books, and occasionally booze. Reading you under the table since 2012. This site now exists as an archive of all the posts and content from the original website.
Bringing The Fun Back Into Writing
[box type="info"]Hey, All! Stephanie here, with my good friend and fellow pub-crawler, Stacey Lee. Today, we are so excited to talk about two of our favorite things: writing and fun! [/box]
Stephanie: It's the beginning of November, which means NaNoWriMo has just begun!
I love the idea of NaNo. I love that it's a race to write fast, and one that everyone can win. So instead of competing, people are rooting for one another. A wide array of authors give inspirational pep talks. Strangers write together in coffee shops. Friendships are formed as people participate in group writing sprints.
NaNo is fun! And I think this is a key reason why it is so enduring. I don't know about all of you, but whenever I'm feeling particularly stuck, uninspired, or that everything I'm writing is really garbage-y, I think it's because I've forgotten to have fun with it. And I believe it's nearly impossible to write a story others will love if you're not feeling any love as you write.
So Stacey and I have put together a list of, Seven Ways To Bring The Fun Back Into Your Writing:
1. Fall in love with words again.
Stephanie: When I was younger, being the super-cool kid that I was, I sat in my room a lot and read my thesaurus. I loved discovering new words. I'd highlight the ones that sounded most interesting then write little stories around them. Sadly, my teachers often informed me I was actually using many of these words incorrectly—but that's another story.
The point of this story is, I made an effort to uncover new words as if they were treasures to be found. I'm not sure when I stopped (probably around the time I started making friends), but lately I've started hunting for words again, and listing all the lovely words that I'd been neglecting. It inspires me—like finding the perfect party dress and deciding to throw a party because of it. Now it's even easier to re-discover words with awesome sites like thesaurus.com.
Some of my most recent favorites include:
Arsenic, Rancor, Lurid, Insidious, Velveteen, Ephemeral
I'm also a big fan of McGraw-Hill's Dictionary of American Slang and Colloquial Expressions.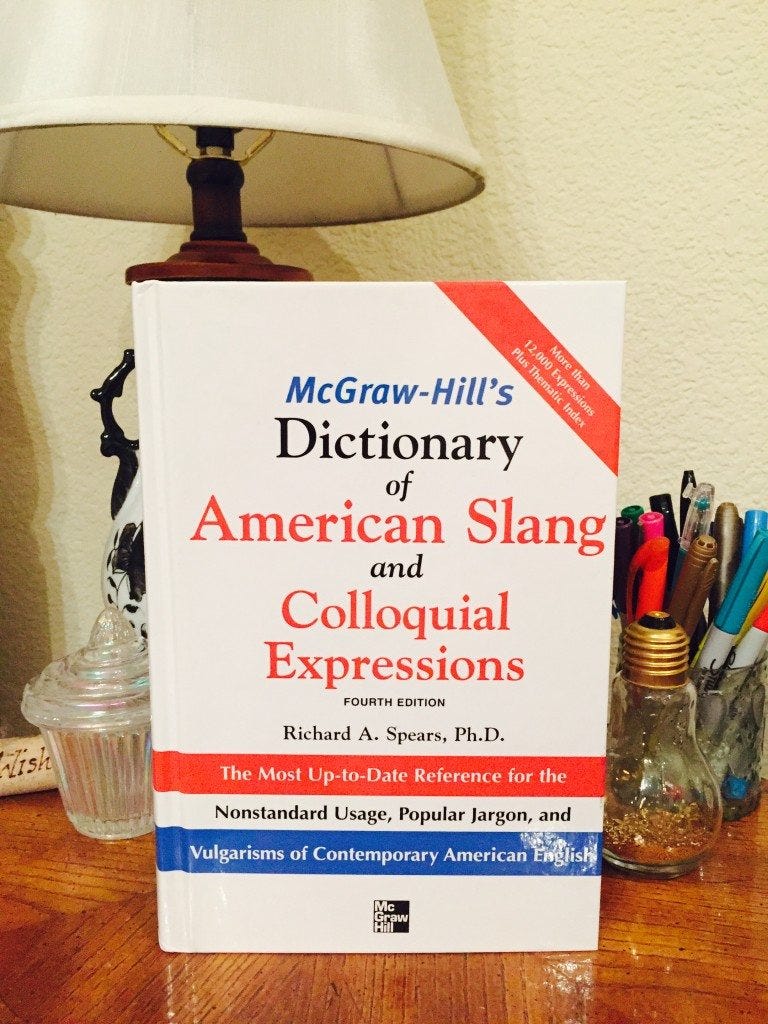 This book also has a thematic index. For example, if you're searching for a term to use in place of liquor store, you'd find: candy store, comfort station, filling station, guzzelry, happy shop, headache department, headache house, juice house, leeky store, LIQ, oasis, thirst-aid station.
2. Commandeer your setting.
Stacey: Stand up, and wiggle your shoulders. Roll out your neck. Now make fists and pump them toward the heavens and say, "I am Master of my domain!"
Now sit back down and examine the world you've created. How can you make it better? Don't settle for what's ordinary, or expected because when we do that, we put readers (and ourselves) to sleep. Make it more vivid, more memorable. How? By not just adding a crooked door to the cottage, but creating an emotional connection between the crooked door and your character. Maybe every time your character sees the door, she remembers how her dad kicked it down when her mom locked him out. Or maybe the door is always threatening to fall. You can create a lot of layers, and have even more fun with your writing, by commandeering your setting.
3. Let Your Imagination Leap Out Windows.
Stephanie: A couple weeks ago a former student of mine sent me this lovely quote:
Her imagination was by habit ridiculously active; if the door wasn't opened to it, it jumped out the window. –Henry James, The Portrait of a Lady
When I read this I pictured a bored woman jumping out of a window. But I believe the author is really saying that writers should shrug off anything confining them and take bold daring risks that will bring them to frightening and dangerous places. This goes beyond breaking rules. It's simple to say, "I don't care  about what everyone says, I'm going to start my book with my character waking up." But mining deep within yourself, to find a subject that will not only force your reader to see some facet of the world through a different lens but stretch you as a writer, that is something else entirely. This might not be 'fun,' but it's definitely exciting.
4. Find Reasons To Celebrate:
Stacey: I think sometimes we're running so fast, we forget to stop at the rehydrating stations. Celebrations are one of the ways we can rehydrate, along with eating and sleeping and laughing. I book a spa appointment every time I turn a draft in on time—my own private pat on the back for making my deadline. And speaking of celebrations, Stephanie and I are preparing a celebration for our one-year anniversary on Tumblr because it's basically an excuse to be merry and giveaway an awesome stash of books.
5. Pick a Theme Song
Stephanie: I know a lot of people do playlists, which are also awesome, but playlists usually encompass a variety of emotions. A theme song should be your anchor to one distinct feeling, which you are excited about threading throughout your entire novel.
For the first book I wrote, Hoppípolla by Sigur Rós was my theme song. It was whimsical and beautiful, and it made me think of make-believe things come to life. Whenever I felt as if my writing was stale, I would put that song on and it reminded me of what I was attempting to achieve.
6. Get into a good story.
Stacey: Nothing helps me rediscover the joy of writing like reading a good book, watching an awesome film or play. When I've reached a roadblock, sometimes just reading the words of others inspires me to go back and kick some roadblock bootie. Great stories I've experienced recently:
Phantom of the Opera musical (made me want to write a tragic love story!)

The movie The Martian (plotting brilliance)

Tiny Pretty Things by Sona Charaipotra and Dhonielle Clayton (the evil scheming ballerinas!)
 7. Participate in NaNoWriMo.
We know the month has already started, but it's not too late to join in the fun.
Now it's your turn! We'd love to hear any tips you have that might help put the fun back into writing!