Discover more from Pub(lishing) Crawl
All things reading, writing, books, and occasionally booze. Reading you under the table since 2012. This site now exists as an archive of all the posts and content from the original website.
Book Recommendation: Jeff VanderMeer's WONDERBOOK
I'm a HUGE fan of books on writing. Like, I probably have an addiction and I know my husband would be REALLY happy if I'd throw out some of these gazillion craft books hogging up the basement...
Recently and sort of on a whim, I picked up Jeff VanderMeer's Wonderbook: The Illustrated Guide to Creating Imaginative Fiction. I am so, so, SO glad I did. Seriously guys, this is my new favorite book on writing craft. Not only does this book give beginners everything they need to know to start crafting stories, but it's an incredibly helpful book for experienced writers too.
Here's the trailer:
Not only does VanderMeer introduce some awesome concepts and prose possibilities that I'd never considered before, but he also shares tons of essays from other authors on how THEY do things.
Then there's all the art to go along with it!! A few of the crazy diagrams left my Muse spinning in the best possible way. Like this Hero's Journey as depicted with a Mexican Luchador: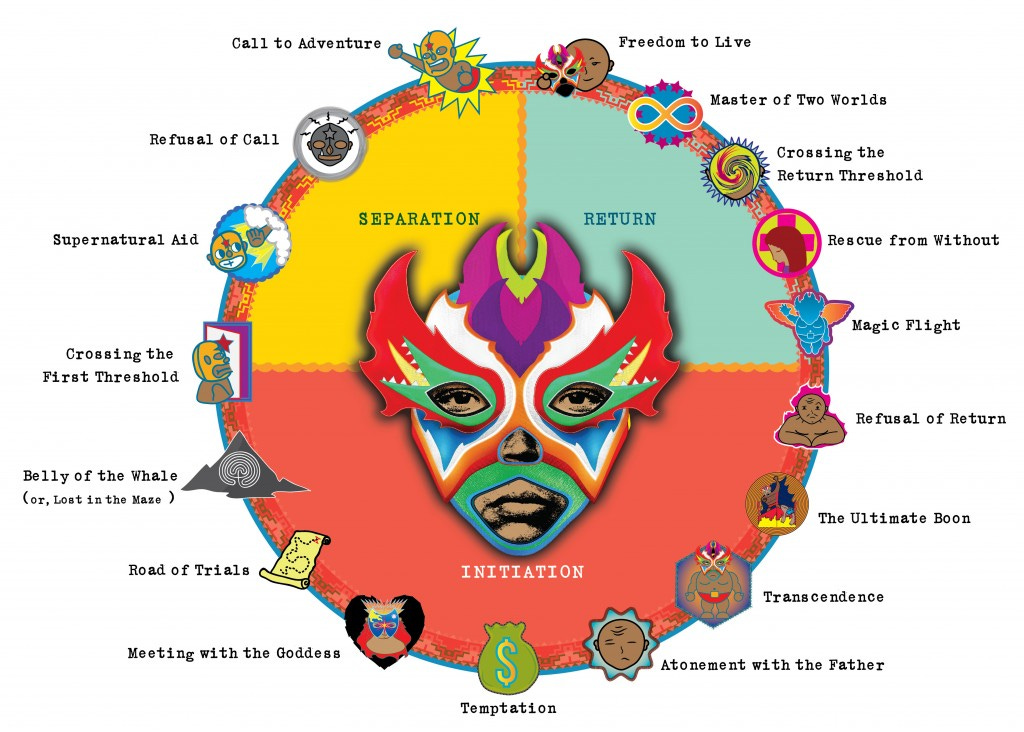 On top of all the graphics, there's an interactive website to go along with the text. SO. MUCH. INFORMATION. It took me weeks to get through this book, and I enjoyed/savored every sentence.
So watch the trailer below, read an excerpt or the web extras, and maybe pick a copy of your own. I promise: all artists can gain something from this fantastic guide.
[hr]
JEFF VANDERMEER is the author of more than 20 books and a two-time winner of the World Fantasy Award. His books have made the year's-best lists of Publishers Weekly, LA Weekly, the Washington Post, Amazon, the San Francisco Chronicle, and many more. He is the co-founder and co-director of Shared Worlds, a unique writing camp for teenagers, and has taught at Clarion, the world's premiere fantasy/sci-fi workshop for adults. VanderMeer is based in Tallahassee, Florida.