Discover more from Pub(lishing) Crawl
All things reading, writing, books, and occasionally booze. Reading you under the table since 2012. This site now exists as an archive of all the posts and content from the original website.
<em>Crewel</em> by Gennifer Albin
So, I am super-super-suuuper excited to be writing this recommendation today because I've been waiting and waiting for Crewel to hit shelves so I could FINALLY share my love for it with the world! When I attended BEA this year, Crewel was a YA Buzz Book (aka a REALLY BIG DEAL/HONOR), and while listening to Genn's editor talk about Crewel on the Buzz Panel, I had that overwhelming "must read NOW!" feeling. Long story short, I was so, so, SO disappointed when I didn't manage to get an ARC of it that day.
However, I lucked out at Comic-Con this summer, and got my paws on a beauuuutiful copy. And despite being on a deadline for my own books, I devoured it in ONE sitting. BUT—before I jump into the bajillion reasons why you should go out and buy it today, here's a little info about the book: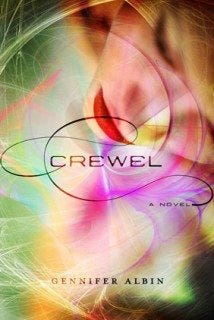 What a tangled world she weaves...

For generations, Spinsters have been called by Arras's Manipulation Services to work the looms and determine what people eat, where they live, how many children they have, and even when they die. Gifted with the rare ability to weave time with matter, Adelice is exactly what the Guild is looking for, and in Arras, being chosen as a Spinster is everything a girl could want. It means privilege, eternal beauty, and being something other than a secretary. It also means the power to embroider the very fabric of life. But once you become a Spinster, there is no turning back.

Now caught in a web of lies and intrigue, Adelice must decide who to trust: her kind mentor, Enora; the handsome and mysterious valet Jost; or the charismatic Guild ambassador Cormac Patton. They each have secrets, but Adelice is about to unravel the deadliest one of all, a sinister truth that could destroy reality as she knows it.

In a powerful and original debut about a world where the Guild decides everything, one extraordinary girl dares to defy the power of men and the boundaries of love.
Not enough to entice you? Check out the trailer!
Okay, so I obviously don't have the space to list a bajillion reasons why you should buy the book, but I CAN talk about some of the things I absolutely adored about Crewel...
The World: Hands down, the thing I loved most about Crewel was the original and vibrant world Genn created. The world-building is intricate and layered, and I found myself taking mental notes as I read, marveling at the way Genn wove in (sorry, sorry!) so many details without weighing down the book. Adelice's world is dark and broken and haunting (and utterly terrifying at times), and I could picture it so, so clearly in my head. Months later, I'm STILL thinking about the world.
The Heroine: While the concept of the Spinsters and their world was what drew me in initially, I stayed for the characters—especially Adelice. Her growth, the difficult choices she makes, the challenges she faces...all of it added up to a strong heroine that I won't soon forget. I loved her from the very first page (which is one of the STRONGEST openings I've ever read).
The Romance: Ohhh, the romance. It is so YUMMY. But what I loved about it was that it wasn't the main focus of the book—and it certainly isn't an insta-love kinda relationship. The romance STRENGTHENED Adelice as a character (instead of turning her into a damsel in distress). Really, really stellar stuff.
The Bottom Line: Crewel is fabulous, and I am dying (DYING!!) for the next book (especially after such a killer ending)! Do yourself a favor and grab a copy.
AND, in honor of this awesome, awesome book releasing today, I'm giving away ONE finished copy of Crewel (US only, sorry)! Use the form below to enter! Hooray!
[hr]
P.S. HUGE congrats to Pub Crawl's own Marie Lu, for her YALSA 2012 Teen Top Ten Nomination!!!!!!