Discover more from Pub(lishing) Crawl
All things reading, writing, books, and occasionally booze. Reading you under the table since 2012. This site now exists as an archive of all the posts and content from the original website.
Book Recommendation: <em>Perfect Ruin</em> by Lauren DeStefano
So, a Great Book was released into the world last week, and I thought you guys might want to know about it. I was lucky enough to read an ARC of PERFECT RUIN, and I've been sitting on its awesomeness ever since (not literally...while PR is fabulous in various ways, it does not, in fact, make for a very good chair).
Now that the book is out, you can all share in the awesome. You're not entirely convinced? Well, that's why I present to you:
A few reasons you should read Perfect Ruin by Lauren DeStefano: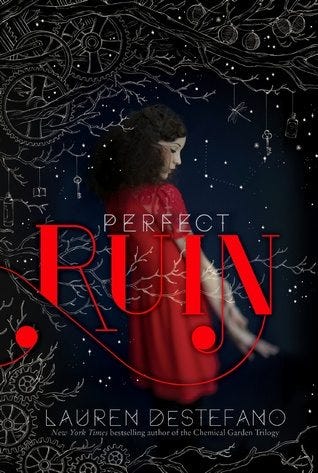 1. The writing. If you've read the Chemical Garden trilogy, you already know Lauren's writing is beautiful and heartbreaking (beautifully heartbreaking? Heartbreakingly beautiful? BOTH). The writing in PR is somehow even better than that in the previous books. How that's possible, I'm not entirely sure, but it makes me want to crawl inside the sentences and live there. Each phrase contributes to an overall mood that carries the reader from the first page to the last.
2. It's set on an island floating in the sky. Um, why on earth (ha! Pun!) wouldn't you want to read about that? Come on, guys, really. The mythology and world-building behind Internment completely captured my imagination, and I'm dying, dying for more.
3. The characters. The people you meet in PR are so very deftly drawn—dynamic and memorable without losing nuances and seeming cartoonish. They feel like people you might stumble upon in real life, and by the time you're even halfway through the book, you feel like you've known them forever.
4. Internment's population dresses like it's the early 1900s (at least, that's how I picture it). Maybe it's just me, but I love the fashion from the early 1900s. Forget the medieval dress with its poof and brocade—I love the long, elegant skirts and the perfect hair. It was a lot of fun to imagine everyone running around in period-esque dress, and it added another layer to the world of Internment.
5. The mystery. There are a lot of questions to be answered about Internment, its history, and the characters that people it—not to mention the murder mystery, of course! Answers are doled out just quickly enough to keep you satisfied, but slowly enough to make you oh-so-desperate for the next tidbit of information. I couldn't stop flipping pages.
Conclusion? READ PERFECT RUIN. Preferably, now-ish, so we may fangirl about it together :) <3