Discover more from Pub(lishing) Crawl
All things reading, writing, books, and occasionally booze. Reading you under the table since 2012. This site now exists as an archive of all the posts and content from the original website.
Bologna Book Fair for Beginners
When I first started in publishing, I heard about "rights fairs" in Bologna, Frankfurt and London and they sounded like wonderful, magical things. You flew to Europe to attend parties, eat good food, and to talk about the books you love. What could be better?
Well, now that I've actually attended a conference like this, I have to answer that question: not much could be better.
I will admit that the schedule is rather grueling, but we're in Europe for cripes sake! I can deal with 7 or 8 grueling days for some delicious gelato. And to talk about books of course.
So what is it we do at these rights fairs?
We pitch your books. Again. And again and again and again and again….
Prior to the trip, Kathleen Ortiz (our amazing subrights director) set up our Nancy Coffey Literary Table in the Agents Center of the fair, and then she scheduled meetings with foreign publishers and agents. 76 final, confirmed meetings to be exact (plus 2 spontaneous ones while at the fair!). We sat a lot of the meetings together, but split up when we had to. There is a small food bar in the Agents Center that comes in handy for just this.
While she was busy scheduling and confirming meetings, she was also creating our beautiful rights catalog, which was a whopping 42 pages. She also created the second catalog for Red Tree Literary, another agency we represent foreign rights for (The Selection, anyone? *drools*).
And while she was doing all of THAT, she was also subbing work to our foreign Co-Agents up until two weeks before the fair.
[box type="note"]Note: a Co-Agent is another agency that we partner with in order to sell rights in another format or territory. We have 19 Co-Agents to assist us in selling foreign rights, and we got to meet with half of them at the fair, which was lovely! These are our colleagues and our first champions overseas.[/box]
And while Kathleen was doing all of that, I felt like a lazy schlub. So I knew I had to pick up the slack once we hit the fair.
At the fair, it looks a lot like Book Expo America with publishers and licensors set up in stands everywhere. Except only...it's bigger. Much, much BIGGER. It takes place in 4 or 5 gigantic halls (by the end, I still don't think I walked through all of them), and each country is represented. I wish I took more pictures! But of course the only ones I have are of the American stands. #TouristFail
They still look lovely though! (Does anyone spy Lynne Kelly's Chained???)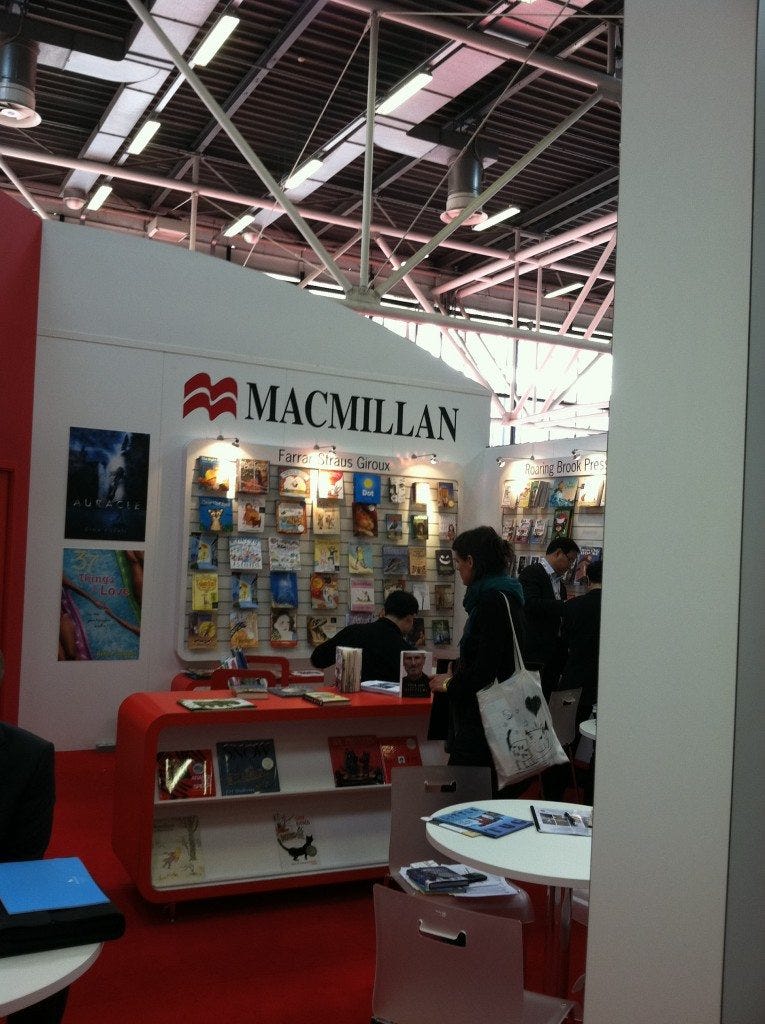 There are also walls for artists to pin up their work for the publishing world to see, like this.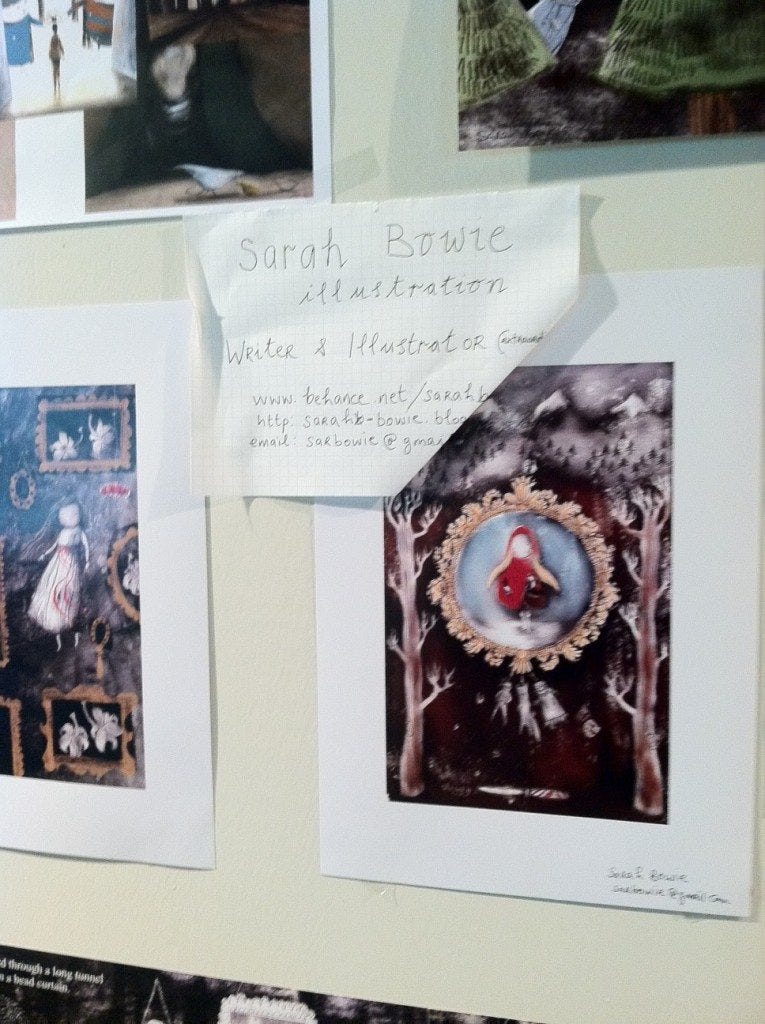 This was from the first day, so everything was still neat and tidy. By the end, the walls were filled and illustrations were overlapping one another like crazy. But it was beautiful.
Back to where I actually did, ya know...work.
The first thing we did when we sat down with a foreign editor, publisher or agent was ask them a few questions (in no particular order):
What are you looking for?

What are you NOT looking for?

What has worked for you in the past really well?
Each meeting is only 30 minutes long, so we don't want to waste our time or theirs.  Some still wanted to see our entire catalog, and in those cases we would browse with them, and when they stopped on a particular title we would elaborate enthusiastically on the title, the author, and why it's so awesome.
In other cases, they would answer the above questions and we would tailor our pitches accordingly.
And in a few cases, they would sit down and it would be very specific.  Something like:
"We are only looking for contemporary romance for teens, both literary and commercial, but nothing too sexy."
So we would flip to the titles that fit the bill and start going.
When appropriate, we would also point out a title that they might not realize they're looking for, but we know they'll like it. More often than not, we were right in these cases (woo!).
Either way, we always had something to talk about since our list is so diverse, and after we were done pitching, we would ask a few questions about them, how the fair is going, and whatnot. And then it would be on to the next.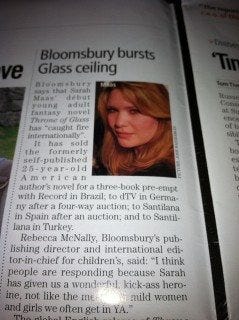 But now that we're back from Bologna, the job isn't done. The next step is to follow up on all of the requests made during the pitches. At the end of each one, we had a short list (and sometimes a long one) of manuscripts the editor wanted to see, so we are currently submitting those and crossing our fingers very tightly that this leads to more exposure for our clients, and a new audience to read their wonderful stories.
Other Bologna highlights?
Running into PubCrawl's very own Marie Lu, who was there to promote Legend. She has that picture, so maybe if you ask nicely she'll post it?
Also, reading about Sarah in the Bologna Bookseller Daily!
And! And! Free cappuccino for Agents at the food bar. Yum.
I'm headed to London in the fall for meetings, so more international travel stories to come!