Discover more from Pub(lishing) Crawl
All things reading, writing, books, and occasionally booze. Reading you under the table since 2012. This site now exists as an archive of all the posts and content from the original website.
Betareaders Rock: Meet the Readers Who Proofed <em>This Gulf of Time and Stars</em>, and Win a Copy of the Book!
[box type="info"]A few years ago, we had the pleasure of hosting a wonderful world building Q&A with Julie Czerneda around her then-new release, A Turn of Light. Now she's back, but instead of us asking her the questions, she turned the spotlight onto the unsung heroes of the literary world: beta readers. In honour of the latest installment of her Clan Chronicles sci-fi series, This Gulf of Time and Stars, we have the privilege to share with you not just a giveaway, but an interview between an author and her trusted second (and third) pair of eyes. So without further ado, welcome Julie![/box]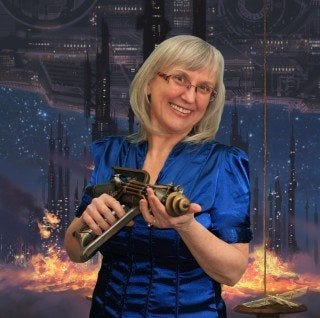 Roger Czerneda Photography Science fiction folks know. What they like and don't like. Most particularly, they know what they love. All about what they love. I've been to conventions. Trust me. You can count me among them for I'm just as cautious about a "new" take on a beloved film or tv series. Hopeful, yes, because I want more. But cautious. Because, seriously. What if They mess it up? There's no mysterious and plural They involved in my books. There's just me. My publisher, quite rightly, expects me to know what I'm doing. My readers do too. So when I returned to write more about Morgan and Sira, I understood the stakes. I had to get it right. Me. All by myself. Unless...I had help. What if I could find another set of expert eyeballs? Someone who'd recently reread the first six books of the series. Someone who cared about details. Someone who loved the story enough to tell me if I messed up their hopes for it. Impossible, I thought, but nothing ventured, nothing gained. Having received permission from my publisher to grant access to the unpublished manuscript, I set up a webpage with quiz questions drawn from the series, and launched a Betareader Competition. (You can try it yourself, with answers!) EGAD! People leapt to participate. It was amazing. I took the top ten respondents and grilled them with a second, tougher quiz. At the end, I'd found my readers. I'm delighted to introduce Carla Mamone and Lyndsay Stuart, winners of a tough job and official betareaders of the first draft of This Gulf of Time and Stars. [box style="rounded" border="full"]Carla Mamone is a newlywed from Ontario, Canada, who loves to relax with a good book, her cat in her lap, and a hot cup of tea. She loves puzzles, the colour pink, and all things furry and cute. Carla earned a Bachelor of Arts in music, studying voice, composition, and music theory. She is currently working as a secretary for her family's appraisal company, but hopes to soon join the publishing profession editing science fiction and fantasy novels.[/box] [box style="rounded" border="full"]Lyndsay Stuart got her start proofreading while working on internal communications for a big player in the Canadian automotive industry. She has worked as a mosquito identifier, is the kind of person who has a favourite lichen (Xanthoria fallax), earned a Tae Kwon Do black belt in Korea and can kick serious butt as a swordsman. She has a husband whom she saved from a bear and two little children who she thinks are the sweetest little monsters that ever were even though they've covered the whole house with chocolate finger prints.[/box] Julie: Ladies, whatever made you do all this?
Carla: When I heard about the betareader competition, I thought it sounded really fun and interesting. I'm a very meticulous person, so I knew I could (hopefully) do a good job. Plus, I couldn't pass up an opportunity to work with one of my favourite authors.
Lyndsay: I was spending a lot of time stuck in a chair with a new baby and needed to set my mind to some work or go crazy.  It was a chance to use my powers for good.  Besides, how could I live with myself if I let the chance go by without even testing myself on the quiz?  
Who am I kidding? While all that is true, the draw was the chance to read the book early!  I'm terribly impatient and all the work was worth it!
Julie: I have to admit, it was wonderful knowing you were both so excited to do this. But it was work. What did you find the hardest part?
Carla: Not being able to tell anyone about the story. I love talking about the books that I am reading, so it was really hard not to talk about such an exciting story. My husband would ask me what was so funny or why I was crying and I couldn't tell him about any of it. That was definitely the hardest part.
Lyndsay: The characters and the story aren't mine so who am I to say when they aren't right?! It was a bit tough to look at things a little more critically than usual - especially when the story was so interesting & exciting that the last thing I wanted to do was flip back and double check things! In a few places I had to highlight the text and admit that I didn't understand the reasons underlying particular tensions or a character's reaction to ::cough, cough:: circumstances.
Julie: Carla, you went above and beyond. I do believe I would have trusted your husband. But thank you for being so good about the non-disclosure thing. (Sorry about the tears, but it did help to know where the story had impact.) Lyndsay, when you showed me what you didn't get, that was great. Very often I'd been obtuse, or found a different way to tweak. Now, I'll feel less guilt once you've told us what was the most fun.
Carla: Not having to wait until November to see what happens next to Sira and Morgan. I also really enjoyed working with you and Lyn. You're both so kind, I couldn't ask for better people to work with.
Lyndsay: I bounce-floated around the house for a month, the surprises in the story are so good! Julie doesn't just dish out surprises, she's given us clues about the next book too! I have my guesses and can't wait until you guys read the book. There is much to discuss.
Julie: Back at you, Carla. And the wait's over now! One thing I'd asked, and you provided, were any bits you especially enjoyed. Thank you both for those. The crucial factor, for me, in choosing a betareader wasn't only expertise, for many people had that, but how well—and quickly--you could communicate my mistakes to me. Time was of the essence, as I had only the gap between my submitting first draft and the final galleys in which to make corrections. You were both amazing, but be honest, how hard was it to squeeze this into your lives?
Carla: The timing actually worked out perfectly. I was in the middle of planning my wedding and was getting pretty stressed and overwhelmed. Betareading gave me an excuse to take a break from wedding planning for a few weeks. So, after I was finished, I was excited to get back to planning and didn't feel as overwhelmed.
Lyndsay: When this competition began I had a 2 month old baby and a 2 year old toddler, all my reading, studying and annotation couldn't happen until nap time and I knew Julie was depending on me. Eek! I learned that diapers and reading tablets do not mix with pleasing results.
Thankfully it seems that my real world job experience reviewing written material paid off and for once I got to offer helpful suggestions on something I love. Is this what we call a Unicorn? It's at least Cinderella getting to go to the ball.
Julie: Congratulations again, Carla! And how lovely being a reader was something good at the time. Whew! Lyndsay, as a person who started full time writing with a 6 month old and a 2 and a bit, I tip my hat. It's hard enough to get to the bathroom, let alone think. Bravo, both. Both, you see, because I decided to have two betareaders. (As well as a trusty standby third in case.) Why? Firstly, so you could, if you wanted, talk about me behind my back. The main reason, however, was because I saw from your quiz answers regarding the sample scene that you each identified different problems to bring to my attention. I'm not sure you knew that, but I knew I should have you both. How did you choose what to point out to me?
Carla: I tried to find anything that didn't match the characters' personalities or descriptions from the previous novels. I didn't include anything that was specific only to Gulf, unless I felt that it was necessary.
Lyndsay: Hmm, how to answer without spoilers? For example, there was a section where the timeline had a tiny hiccup. A discrepancy of +/- a few hours doesn't usually jog a reader out of the story, but in this book I had to point it out. It mattered because the characters can't go out in the dark so the timing issue created an impossible situation.
Julie: Humbled, I was. Grateful, most of all. Thank you, Carla and Lyndsay, from the bottom of my heart. Gulf wouldn't be the book it is without you, and you gave me the confidence to send it forth knowing those who've loved the series will continue to do so. It's only fair to let you two have the last word!
Carla: I just want to thank you, Julie, for your wonderful books and for letting me be a part of this one. I had a great time!
Lyndsay: To Julie & DAW, I'm very glad to have gotten this opportunity and thankful to all who helped make it happen.
To you, Readers, I must say that at the end of Rift in the Sky Julie promised all of us we "ain't seen nothing yet." Julie knows exactly who and what we love and she's filled this book up with all of it. Wondering what's next to come is killing me! Until then it'll be a big treat to read the final, polished version of This Gulf of Time and Stars.
Julie: Thanks again! A last, last word. (I get to do that.) Invaluable as my betareaders' expert eyes proved--followed by those of my alert editor, copyeditor, and proof readers--please remember the responsibility for consistency and continuity in the Clan Chronicles is mine alone. As it should be. Enjoy this new installment!
---
And now, the giveaway! Enter to win a free copy of This Gulf of Time and Stars, open to participants in the US and Canada. If audio books are more your thing, we're giving away one of those, too! Listen now to a sample from the audiobook of This Gulf of Time and Stars narrated by Allyson Johnson, courtesy of audible.com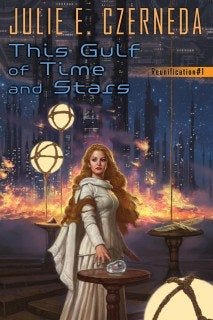 Cover Credit: Matt Stawicki The Clan Chronicles is set in a far future with interstellar travel where the Trade Pact encourages peaceful commerce among a multitude of alien and Human worlds. The alien Clan, humanoid in appearance, have been living in secrecy and wealth on Human worlds, relying on their innate ability to move through the M'hir and bypass normal space. The Clan bred to increase that power, only to learn its terrible price: females who can't help but kill prospective mates. Sira di Sarc is the first female of her kind facing that reality. With the help of a Human starship captain, Jason Morgan, Sira must find a morally acceptable solution before it's too late. But with the Clan exposed, her time is running out. The Stratification trilogy follows Sira's ancestor, Aryl Sarc, and shows how their power first came to be as well as how the Clan came to live in the Trade Pact. The Trade Pact trilogy is the story of Sira and Morgan, and the trouble facing the Clan. Reunification will conclude the series and answer, at last, #whoaretheclan. a Rafflecopter giveaway
---

Since 1997, Canadian author/editor JULIE E. CZERNADA has shared her love and curiosity about living things through her science fiction, writing about shapechanging semi-immortals, terraformed worlds, salmon researchers, and the perils of power. Her fourteenth novel from DAW Books was her debut fantasy, A Turn of Light, winner of the 2014 Aurora Award for Best English Novel, and now Book One of her Night`s Edge series. Her most recent publications: a special omnibus edition of her acclaimed near-future SF Species Imperative, as well as Book Two of Night`s Edge, A Play of Shadow, a finalist for this year's Aurora. Julie's presently back in science fiction, writing the finale to her Clan Chronicles series. Book #1 of Reunification, This Gulf of Time and Stars, will be released by DAW November 2015. For more about her work, visit www.czerneda.com or visit her on Facebook, Twitter, or Goodreads.