Discover more from Pub(lishing) Crawl
All things reading, writing, books, and occasionally booze. Reading you under the table since 2012. This site now exists as an archive of all the posts and content from the original website.
Are You Afraid of the Dark?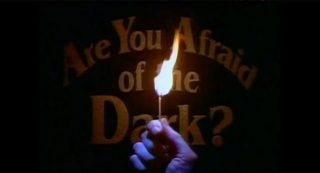 October really is the perfect time for Halloween. As the days grow shorter, the sun sets earlier, and the leaves start to crackle, the idea of staying in with a bucket of popcorn and a scary book or movie grows more appealing. At least, it does to me!
I'll admit I'm a bit of a coward when it comes to horror flicks, but there is something fascinating about the psychology of scaring yourself on purpose. Maybe we are compelled toward the dark side of the human psyche. Maybe we enjoy the allure of the supernatural because it's the ultimate escapism from real life. Or maybe we just like the idea of facing a monster and knowing we'll come out alive . . . but not unscathed.
A few weeks ago, I tweeted about "Are You Afraid of the Dark?", a long-running show on Nickelodeon that was like "The Twilight Zone" meets "Tales From the Crypt" for the middle-school crowd back in my day. The show covered everything from urban legends to traditional haunted house stories to tales of demonic possession and vengeful clowns. I watched many TV programs as a kid, but for some reason, this one has stuck with me the longest. And judging by the countless responses to my tweet, many other millennials in their early 30s fondly remember running home after school to catch a new episode of this twisted, often bizarre, and sometimes terrifying show.
Here are the episodes that people seemed to remember most because they were mentioned again and again in the responses to my tweet!
I've never considered writing a horror story myself, but reading through people's tweets and the synopses for these episodes makes me really want to try. There's no better compliment for a writer, I think, than to have your story stick with someone from the age of 13 to the age of 33, and the people who crafted this show certainly did that for a whole generation.
Are you a fan of horror? What books, movies, shows, etc. have stayed with you through the years and why?