Discover more from Pub(lishing) Crawl
All things reading, writing, books, and occasionally booze. Reading you under the table since 2012. This site now exists as an archive of all the posts and content from the original website.
<em>A Dawn Most Wicked</em> by Susan Dennard releases today!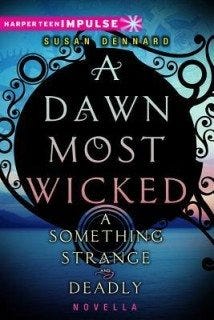 That's right, folks. Another happy hour! Not only are we Pub Crawlers busy cheering Shadow & Bone into the world today, but we're also thrilled to see Susan Dennard's A Dawn Most Wicked hit shelves. Erm...e-readers. (This prequel to Something Strange and Deadly is releasing exclusively as an e-novella!) Susan does so much for this site—it would crash and burn if it wasn't for all the strings she pulled behind the scenes—and we're amazed she has time to churn out fantastic novellas like this one in between her contracted trilogy and Pub Crawl efforts. And this novella is indeed fantastic. You do not want to miss out on this little gem.
I (Erin) mean that wholeheartedly. I've read SS&D, A Darkness Strange and Lovely (out in July), and A Dawn Most Wicked; and while I love them all, the novella might be my favorite of the bunch.
I read a very early draft of A Dawn Most Wicked, followed by several revisions, and I fell in love with the story a bit more each time. The characters (Daniel, I heart you!), the setting (Mississippi River!!), the history of how the Spirit Hunters come together (chills!!!)...It's all fantastic. Sooz has packed a rich and thoroughly entertaining tale into 130 pages, punctuated with plenty of Creepy, and a dash of Swoon. For those of you who prefer official synopses to my gushing, here's the novella summary:
With a checkered past like Daniel Sheridan's, landing an apprenticeship aboard the Sadie Queen was just the fresh start he was looking for. But that's the last thing it's been. Teeming with ghosts that plague the crew with horrific nightmares, this ship is more trouble than it's worth to Daniel. Except for Cass... Gorgeous and stubborn to a fault, apprentice pilot Cassidy Cochran is the one thing keeping Daniel on board. Though they started as best friends, their relationship has grown into something more intense. Their stolen, sometimes steamy moments have Daniel feeling something he never thought possible: love. Enlisting the help of a short-tempered Chinese boy named Jie and a Creole gentleman named Joseph, the three attempt to rid the boat of the ghosts—for if they don't, the Sadie Queen will be put out of business. And with Cass's fatally-ill sister in need of expensive medical help, Daniel is more determined than ever to save the ship. But when he discovers that the ghosts are linked to a dangerous curse whose caster wants everyone on board dead, Daniel will come face-to-face with an evil so dark, so wicked, that it will change the course of his life forever.
Gah! That makes me want to read it all over again. (And I just might.) We are all super pumped that Susan's novella is now out in the world for you to read. In fact, we're so excited we're giving away a copy of A Dawn Most Wicked! To enter, just fill out the Rafflecopter form below, and then leave a comment wishing Sooz a happy release day![1. Please remember—the novella is available in digital forms only, so without an e-reader, you won't be able to claim your winnings (which will be gifted via email).] a Rafflecopter giveaway Congrats again, Sooz! We're all so happy for (and proud of) you!